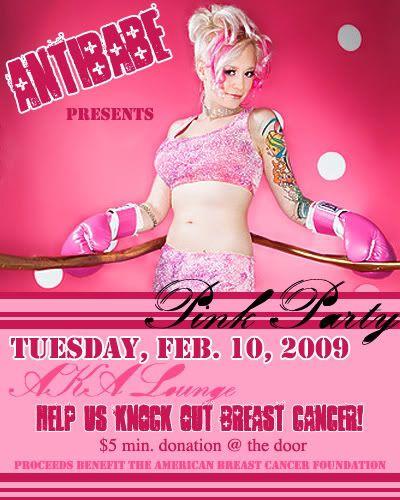 The Pink Party
A Celebration of Womanhood
at Ms. Behavior 3
When life gives us lemons, AntiBabes drink lemon drops! Come out with us to revel in the joys and trials of being a woman.
Tuesday, February 10, 2009 will be a very special event for Ms. Behavior 3! This AntiBabe event is in honor of our dear friend, Uncool Jenny and all the other strong women who are battling breast cancer. All proceeds will go to benefit the people who saved our Jenny's life, the American Breast Cancer Foundation (www.abcf.org).
Come join us! The AntiBabes not only know how to party, but we also know how to give back! Come out to enjoy our full fetish menu ( because life comes with pain), listen to the music of DJs Raven, Martyr, and special guest DJ Spank, and most importantly….just celebrate the woman who have effected and helped to shape all of our lives. $5 minimum donation at the door. $1 PBRs and $5 Cherry Bombs will help take away some of that pain.
All the fun will be had at AKA Lounge
Plus, for added fun, you can "Win a Date with an AntiBabe." Just go to our web site, or you can bid at the Pink Party. Each AntiBabe girl (and boy) are up for auction. The highest bidder will get to enjoy an evening of dinner and cocktails with the AntiBabe of their choice on Sunday, February 15, 2009 from 7pm to midnight. So have a happy Valentines Day weekend, and help out a really good cause!

For more information visit us at www.antibabes.com
Hope to see you there!
AntiBabe, Inc is proud to present: